KCAC National Theme Image Descriptions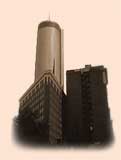 These downtown Atlanta landmarks help to create the city's beautiful skyline. Pictured clockwise from the top are 1) John Portman's Westin Peachtree Plaza Hotel, the tallest hotel in the Western Hemisphere and home to the three-story revolving Sun Dial Restaurant, 2) The former Winecoff Hotel, site of the famous 1946 fire that killed a record 119 people, spurring hotel fire safety measures nationwide, and 3) The Carnegie Building, completed in 1925 as the Wynne-Claughton Building and hailed during that year by the Atlanta Journal-Constitution for its landmark exterior design, an excellent example of the late Commercial style featuring curved corners that help the building fit into a difficult triangular site.

Young Jimmy Carter poses with his mother, Miss Lillian, and sister, Ruth, in rural Plains, Georgia, circa 1933. The son of a farmer who owned land, he grew up among the tenant sharecroppers, often working alongside them to harvest the cash crops of peanuts and cotton for his family. From 1977 to 1981, the Georgia native served as the thirty-ninth president of the United States. In addition to his work as a University Distinguished Professor at Emory University after his term, President Carter, along with his wife, Rosalynn, founded the Atlanta-based Carter Center, a nonprofit organization dedicated to advancing freedom and democracy throughout the world. The photo appears in President Carter's autobiography, An Hour Before Daylight: Memories of a Rural Boyhood. © Carter Family Collection, courtesy of Jimmy Carter Library and Museum. Used by permission.

With an exterior constructed of Indiana limestone and an interior boasting one-and-a-half acres of Georgia marble, the Georgia State Capitol Building was dedicated on July 4, 1889. It is the epitome of Classic Renaissance style, as it features a prominent dome capped with two applications of 23-karat gold. A statue of "Miss Freedom" tops the structure, standing 15 feet tall and weighing 2000 pounds. The Capitol building is the center of the State Capitol Complex, in which most of the state government agencies are managed. On February 1, 2001, the Georgia State Capitol Building became the first site to fly Georgia's new state flag, which keeps, but reduces the size of, the controversial Confederate battle emblem and places it alongside four state flags of Georgia.

Sequoyah, born in 1776 near Tuskeegee, Tennessee, to the daughter of a Cherokee Chief and a Virginia Fur Trader, developed the Cherokee writing system in 1809 after moving to Georgia to flee the encroachment of the whites. Using a phonetic system, he created "Talking Leaves," the 85 letters of the Cherokee alphabet. In 1821, the Cherokee Nation officially adopted the system, which helped lead to the publication of the first Native American newspaper, The Cherokee Phoenix.

Two Wheeler High School students share the field and a friendly soccer competition in suburban Cobb County, Georgia. Diversity is on the increase in the Cobb County School District, which serves nearly 93,000 students.