Student artifact
Editor's Note: Bernadette Lambert delivered the first version of this lesson to her KCAC colleagues at the second KCAC summer institute.  Sylvia Martinez, one of the summer institute fellows, adapted Bernadette's original lesson for her high school students at Campbell High School in Smyrna.  Below are Sylvia's reflection and her students' artifacts.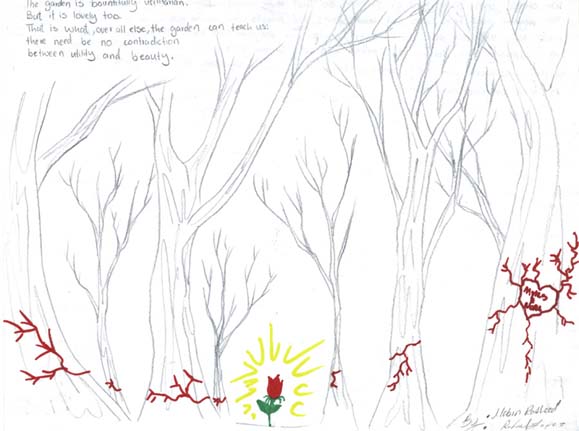 Proposed community interventions: We should start some kind of program so that kids would stay out of trouble.  The program could have clubs and team sports.  And parents can hang out with their friends while their kids play with their friends.  The program can have all kinds of clubs like a drawing club, drama club, music and etc.  In the club people can help each other with class work.  And they can help each other with studying.  But the best thing is that anyone can join.
-- Mobin Rasheed, Rafael Lopez
Teacher reflection
Sometimes having students illustrate invokes that look of fear in their eyes when they imagine their stick figures and scraggly lines appearing on the bulletin board. Despite the normal response, my students were quite excited to illustrate a portion of the poem. They were also asked to choose a character from Seedfolks that best represented the portion of the poem they illustrated.  Finally, I asked them to brainstorm ways that they might intervene in their community in a manner similar to the way the characters shaped their community in Seedfolks.  Seeing them work in groups on their illustrations changed my mind about creating visual art in my classroom. When students understand something and connect to it, they are able to imagine vividly. After reading Seedfolks and the poem, my students believed in the idea of community and were ready to share their picture of community with the rest of the class.
Sylvia Martinez
Cross-curricular adaptation and integration
Language arts
¨ Keep a journal of classroom experiences that are connected to lessons learned from a garden.
¨ Write a story in which a garden setting has a significant impact on the main characters.
Science
¨ Before planting a garden, classify seeds that are used according to size, texture, shape, etc.
¨ Make predictions about how each plant will grow.
¨ List favorable and threatening conditions for your garden.  Keep a journal to post observations of the garden.
Social Studies
¨ Identify famous gardens around the world.  Are some gardens considered museums?
¨ Research and discuss how gardens have changed over time.
Psychology/Life skills
¨ Gardening is often described as a relaxing activity.  Explain how this could be so.
Mathematics
¨ Plan and outline a garden, preferably a real one, on a scaled drawing.
¨ Chart the progress of your garden by plotting the correlation of growth measurements to time.
Art
¨ Illustrate the garden described in Seedfolks at its different stages of development.
Drama
¨ Hold a mock city council meeting in which the Seedfolks deal with the issue of losing public control of the garden.
Suggestions on how you might adapt this lesson for a different classroom setting
► Just because a text's primary audience is juvenile doesn't mean that the text can't speak to older students and provide a valuable launching point for deep thinking.  Sylvia Martinez took Seedfolks into her high school classroom, much like Patsy Hamby took When Clay Sings (see page 67) and Ed Hullender took My Place (see page 142) into theirs.  All of these books are written for elementary or middle school audiences, but deconstructing them and doing the research necessary to emulate them using local materials has been a very valuable approach undertaken by KCAC teachers and their students.
-- Dave Winter
Bibliography
Fleischman, Paul.  Seedfolks.  New York: Joanna Cotler Books, 1997.
Grunchow, Paul.  "What a Garden Can Teach Us."  Grass Roots: The Universe of Home.  Minneapolis: Milkweed Editions, 1995: 77-80.