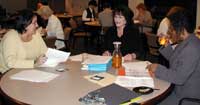 The National Endowment for the Humanities supported the development of The Keeping and Creating American Communities (KCAC) model through a three-year funded program involving teachers affiliated with the National Writing Project. Since then, KCAC has brought together teacher researchers, their students and community members in inquiry and writing to recover stories from the past, participate actively in civic life, and create future communities to which all Americans can belong.
The KCAC project studies and contributes to the making and meaning of American communities. American communities are forming and reforming, dividing and combining, all around us. While demonstrating a vibrant sense of place that may simultaneously be local, regional, national, and even international, American communities construct themselves in a wide variety of shared ways. This culture-making work produces literature, language, architecture, cultural events, public policies, and the physical landscape.
The interdisciplinary curriculum of the KCAC project serves students and teachers from elementary school through university.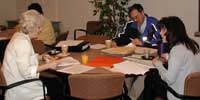 For teachers, KCAC offers ongoing professional development combining a thematic framework for humanities study of community life with hands-on applications for the classroom. Participating in KCAC activities prepares teachers to guide community-oriented learning emphasizing writing, research, critical thinking, collaboration, and creativity.