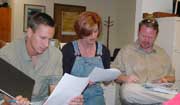 KCAC teacher consultants are available to facilitate professional development workshops, courses and institutes for other educators around the country. KCAC sessions for teachers draw on activities originally developed for the summer institutes and academic-year continuity programs created during our multi-year NEH-funded program. KCAC professional development also draws on and extends the classroom-tested lessons from teachers affiliated with the program.
For information about KCAC professional development, contact the Kennesaw Mountain Writing Project at kmwp@kennesaw.edu.
KCAC professional development opportunities place teachers in the position of students. Teachers try out approaches for community inquiry which they can then use in their own classrooms. Reflections by teachers who have participated in the KCAC project stress the benefits they have found from experiencing the model firsthand. The learning teachers achieve through KCAC prepares them to build students' research and writing skills, as well as a strong sense of community in the classroom and beyond.
Reflections
In this ongoing project, teachers from a wide variety of instructional settings are participating in several writing-based activities: