This was originally the imagined end-point of this assignment. I thought that ideally we might compile these narratives in a booklet to present to the Cherokee Historical Society and possibly to interview subjects, and the Hickory Flat Branch of the Public Library. However, in the process of learning about the history of the area and the stories they heard about the house and its role in the community, my students became very unsettled about the possibility of the destruction of the house for a supermarket. This led to a visit to the classroom by Cherokee County Historical Society president, Judson Roberts who convinced my students that it was within their means to save the house. He listened as they explained their oral history project; then he suggested that they use the narratives as the source for a video that could eventually be used as a marketing tool to save the house. Having already conducted such a campaign,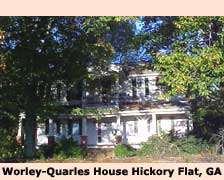 Mr. Roberts gave the students an overview of what would be involved and the process they would need to follow including financial assistance. At his suggestion, students worked with me to draft a grant proposal to the Georgia Humanities Council, an affiliate of the National Endowment for the Humanities, asking for financial asssistance to produce the video.
Once the narratives were completed and turned in, a group of students who volunteered to write the video script, read all the narratives and selected information they believed best showed the life of rural members of society in the twentieth century. The house does not take center stage in the video; rather, it brings the video to a close and serves as a symbol of another time and culture. Students had also borrowed photographs and other artifacts from their interview subjects. Part of the video writing process involved choosing narrative strands that paired well with the available images.
The script committee wrote the script, created the story board, and arranged the images for the video company. Their final task was to organize volunteers to provide the voice overs. Two student thespians and three faculty members provided their help in this final stage, and the video production teacher shared his technical expertise in the taping of the script. We used a video recorder with an external microphone rather than an audio recorder for improved sound quality. The tape was made in the school after hours to avoid the bells. The final step was delivering the tape, script, and images to the video production lab. The lab chose appropriate period background music for us. For considerably more money we could have hired professional actors and actresses, but fortunately we were able to locate talented and generous volunteers.
The video has been distributed to local libraries, the historical society, and area schools. It is our hope that teachers will use the video to teach local history in the lower grades.